Planning, construction and management of inclusive housing complexes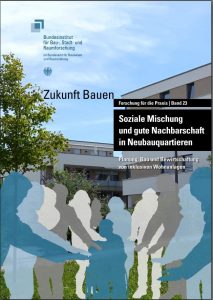 The Institute for Urban Planning and Social Research WEEBER+PARTNER (Stuttgart) examined 16 case studies and interviewed responsible persons in municipal, cooperative and private housing companies. The projects are characterized by a wide range of planning and construction approaches. According to the study, social diversity requires structural diversity: Rental, social and owner-occupied apartments of different sizes and with diverse layouts were created in the new housing quarters. They are socially mixed - even within buildings - with the respective proportions in the neighbourhood being derived from local requirements. The new quarters also offer space for communal forms of living, for example for older people and those in need of care. And they are characterised by an attractively designed and green residential environment. Concept awards promote the planning and implementation of such projects: Through them, plots of land are not allocated according to the highest price, but for the best concept.
The study was funded by the Innovation Programme Future Construction of the Federal Ministry of the Interior, for Construction and Home Affairs (BMI).
download pdf (17MB)
Further information
www.bbsr.bund.de/...2020-neubauquartiere.html
Keywords: Cohousing, DE-News, Research, New books and studies, Quarters, Settlements, Social diversity, Social / Culture, Housing policy, Housing projects