Land und Bund geben 3,9 Millionen Euro nach Heidelberg / Auch Geld für Sporthalle auf Hospital
Heidelberg is receiving massive funding from the 2021 urban development programme for two construction projects on conversion sites. The development of Patrick-Henry-Village (PHV) into a new city district has even received the highest funding amount in the entire programme. Heidelberg will receive 3.5 million euros for this project. In addition, the conversion of the sports hall on the former US hospital in Rohrbach will be funded with 400,000 euros. This was announced by the Baden-Württemberg Ministry of Economics on Wednesday, February 3.

"Wir freuen uns sehr über diese Förderung und bedanken uns bei Land und Bund für den großen Rückhalt. Wir sind überzeugt, dass Heidelberg mit der Entwicklung von Patrick-Henry-Village ein Modellprojekt für die klimafreundliche und lebenswerte Stadt der Zukunft abliefern wird – genau dafür steht der dynamische Masterplan von Stadt und Internationaler Bauausstellung, den wir in den kommenden Jahren umsetzen. Es ist ein wichtiges Signal, dass Land und Bund uns hier unterstützen", erklärt Oberbürgermeister Prof. Dr. Eckart Würzner.
Das baden-württembergische Wirtschaftsministerium lobte in einer Pressemitteilung insbesondere die Pläne zur Wohnbebauung auf PHV: "Allein auf der Konversionsfläche Patrick-Henry-Village in Heidelberg sollen Wohnungen für rund 9.000 bis 10.000 Einwohnerinnen und Einwohner entstehen. Dabei wird auf ein vielfältiges Angebot für alle Bevölkerungsgruppen Wert gelegt." Heidelberg erfüllt damit einen Wesenskern der Städtebauförderung, den Wirtschaftsministerin Nicole Hoffmeister-Kraut so beschreibt: "Ziel ist es, bezahlbare Wohnungen für alle Alters- und Bevölkerungsgruppen zu schaffen, die barrierefrei und energetisch auf dem aktuellen Stand sind. Nach dem Grundsatz Innenentwicklung vor Außenentwicklung liegt der Fokus darauf, innerörtlich nachzuverdichten und dabei historisch wertvolle Bausubstanz zu erhalten."
Geschäftsführender IBA-Direktor Prof. Michael Braum macht es konkret: "Dass Bund und Land die PHVision so großzügig fördern zeigt, dass auch außenstehende Expertise an unseren ambitionierten Ansatz glaubt: die Integration von Themen wie Nachnutzung des Bestandes, zukunftsfähige Mobilitätsangebote und multitalentierte Freiräume machen den Städtebau von morgen innovativ, nachhaltig und attraktiv zugleich. Diese Pionierförderung für den Süden des PHV ergänzt die angelaufenen Aktivitäten der Stadt und der Bundesanstalt für Immobilienaufgaben kongenial."
"Diese Förderzusage dürfen wir als Signal verstehen, dass wir mit dem Konzept des Dynamischen Masterplans genau die richtigen Antworten auf die aktuellen und drängenden Fragen des Städtebaus geben – insbesondere was das Zusammenwirken von Wohnen, Arbeiten, Bildung, Freizeit, Sport und Kultur angeht. Das Projekt genießt bei uns absolute Priorität und wird auch international bereits wahrgenommen", sagt Erster Bürgermeister Jürgen Odszuck. Für Hans-Jürgen Heiß, Bürgermeister für Konversion und Finanzen, sind die Summen aus der Städtebauförderung ebenfalls eine Bestätigung: "Wir haben seit Jahren mehrere Konversionsflächen parallel in der Entwicklung und haben dabei bewiesen, dass wir verlässliche Partner sind. Die Summen aus der Städtebauförderung entlasten den städtischen Haushalt und ermöglichen in der Entwicklung hervorragende Qualitäten", erklärt Heiß.
Patrick-Henry-Village – Heidelbergs 16. Stadtteil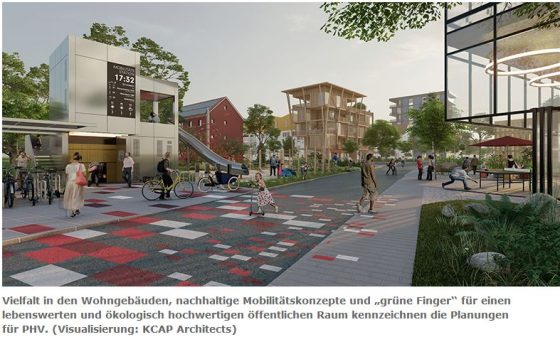 Das über 100 Hektar große Entwicklungsareal westlich der Autobahn 5 war bis zum Abzug der US-Armee im Jahr 2014 eine Wohnsiedlung für militärisches und ziviles Personal. Die Stadt Heidelberg möchte PHV in den kommenden Jahren zu ihrem 16. Stadtteil entwickeln. Rund 10.000 Menschen sollen hier wohnen und rund 5.000 ihren Arbeitsplatz haben. Grundlage der Entwicklung ist der dynamische Masterplan. Er wurde gemeinsam durch die Stadt Heidelberg und die Internationale Bauausstellung (IBA) Heidelberg unter Einbeziehung international renommierter Städtebauer und verschiedener Fachplaner, verbunden mit einer Beteiligung der Bürgerschaft, erarbeitet und anschließend vom Heidelberger Gemeinderat beschlossen.
"Vitaler, heterogener, grüner" ist der Leitgedanke des neuen Stadtteils. Er wird mit zukunftsfähigen Wohn- und Arbeitstypologien, innovativen Freiraum- und Mobilitätskonzepten, einer klimaneutralen Energieversorgung sowie dem intelligenten und gesellschaftlich verantwortlichen Einsatz digitaler Technologien Antworten auf drängende Zukunftsfragen geben. Hierfür wurden fünf Quartierstypen mit unterschiedlichen Identitäten entwickelt, die oftmals Neu- und Bestandsbauten der US-amerikanischen Wohnsiedlung mischen. Ein zentraler Park mit einem See zum Wassermanagement im Zentrum, Vielfalt in der Architektur und bei der Nutzung von Gebäuden, die Produktion von Nahrungsmitteln und Energie direkt im Quartier – das sind nur einige Aspekte des ganzheitlichen Ansatzes. Dank Quartiersgaragen in Randlage sind der öffentliche Raum und die Quartiere fußgängerfreundlich und stellplatzfrei geplant.
US-Hospital – Quartier für die Mitte der Gesellschaft
Auf dem Gelände des ehemaligen Hospitals der US-Armee in Rohrbach entsteht in den kommenden Jahren ein zukunftsweisendes emissionsarmes Quartier für die Mitte der Gesellschaft. Die ehemalige Sporthalle – für die nun im Rahmen der Städtebauförderung 400.000 Euro fließen – könnte in eine attraktive Beachhalle umgebaut werden. Ein entsprechendes Konzept für eine energieneutrale Freilufthalle wurde bereits erstellt. Im nächsten Schritt werden die voraussichtlichen Kosten für einen Umbau ermittelt, ehe der Gemeinderat über die künftige Nutzung der Halle entscheiden wird. Das 1903 als Exerzierhalle errichtete Gebäude war später durch die US-Amerikaner zu einer Sporthalle umgebaut worden. Es steht unter Denkmalschutz.
Die städtische Wohnungsbaugesellschaft GGH entwickelt auf dem Gesamtareal bis 2025 ein Wohngebiet mit rund 600 Wohnungen, das sowohl dem demografischen und gesellschaftlichen Wandel Rechnung trägt, den sozialen Zusammenhalt fördert als auch eine funktionale Durchmischung von Wohn- und Arbeitsstätten bietet. Das Quartier setzt in den Bereichen Wohnen, Energie, Verkehr und Städtebau auf zukunftsweisende Bausteine, die teilweise deutschlandweit einmalig sind. Das Wohnzielgruppenkonzept sieht für 40 Prozent der Wohnungen im Quartier vor, dass die Bewohner nur 30 Prozent ihres verfügbaren Einkommens für die Warmmiete bezahlen müssen.
Keywords: Bike-/Velo-City, DE-News, Funding, News Blog Baden-Württemberg, Mix of uses