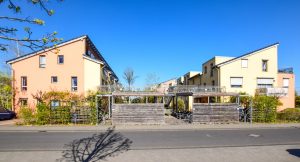 53229 Bonn Vilich-Müldorf: 32 units, multi-generation residential project, number of parking spaces 0.5 PkWs/WE, completion: 2008
Size
WE: 32
approx. 3 500 m² usable floor space, 170 m² common area
Completion
2008 (start of construction 2006)
Project
Multi-generation housing project with cooperative self-managed rental apartments (new building)
Special features
- Housing project initiated by Baugemeinschaft with some shared spaces.
- Cold rent: 8.70 euros/m² (privately financed apartments) or 5.20 euros/m² (publicly subsidised, so-called WBS apartments)
- Service charges, maintenance of communal facilities approx. 1.50 Euro/m²
- Robert Jungk Prize 2007, Bonn Environmental Prize 2010
Urban planning
Residential courtyard development, 3-storey
Energy
KfW 40 houses
Building materials /
Building Biology
Partly ecological building materials
Mobility
Reduced number of parking spaces 0.5 car/WE, housing project-internal CarSharing
Free space
Natural open space design; urban gardening;
Development
Car parking on the edge of the development.
Stakeholders
- Developer: Cooperative Amaryllis eG
- Planning: Architectural offices Alte Windkunst, Herzogenrath
- Moderation: Housing Association NRW, Bochum
- City of Bonn and Landesentwicklungsgesellschaft (LEG) as land owners supported the idea of a multi-generation project
Enforcement strategy, tools
- Increased assertiveness through the formation of an assembly group

- Reduction of construction costs by 10% through own contribution
- 6 apartments subsidised with public funds for social housing (WBS I and II)

Video
from 03/25/2019 | length: 05:56 min. about the 2nd integrative housing project
https://vdktv.de/2019/03/25/gemeinsam-inklusiv-das-mehrgenerationenwohnen/
Links
www.amaryllis-bonn.com
www.gkv-spitzenverband.de/...Poster_Wohnprojekt24.pdf
www.general-anzeiger-bonn.de/...Den-dritten-Standort-fest-im-Blick...
Last Updated: December 8, 2020



Similar projects on sdg21:
All project/s of the planning office: Architect's office Alte Windkunst; Urban region: Bonn and surrounding area; Country: Germany; Characteristics: 03 - 4 floors, Cooperative, Rental apartments, Terraced house, Residential, Housing project; Thematic: Car free living, Mixed wood construction