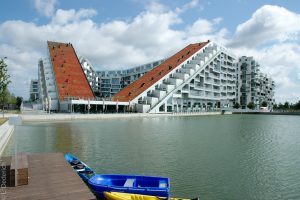 DK - Copenhagen-Örestad South: 475 units as large-format buildings around two courtyards forming an 8. Mix of uses: apartments, terraced houses and commercial use (offices, shops and a café on 10,000 m²) with a total of 62,000 m² of usable space. A special feature is the public access path that leads all the way around the 8 House to the top floor. This means that you don't even have to leave the building ensemble to go jogging. Architect's office: BIG (Bjarke Ingels Group). Completion: 2012

The public way
It leads once all the way around the 8 House to the top floor. It is laid out as a new interpretation of the sidewalk that runs past each row house with a kind of front garden. Children can visit their friends without having to go out into the street, joggers can do their laps and even cyclists can start right outside the front door, because there is the possibility to get upstairs via stairs as well as via ramps. "A pedestrian zone on the building, so to speak, very neighbourly, very communicative, very close. Having reached the top level on the south side, one appreciates the ascent - an unobstructed view all the way to Köge Bay rewards the walker - and not, as so often in the real estate business - only the elitist owners of the most expensive A-location apartments." [DBZ 05/2011]
The residential courtyards are landscaped with two themes, each with its own character. In the south, grass terraces create a geometric pattern, while in the north courtyard, round grassy hills form places for free use. To the south, 8 House borders the Kalvebod Fælled nature reserve, with Köge Bay visible on the horizon.
Common areas
rooms, guest apartments, lounges and a roof terrace where barbecues can be held or parties can be held. BIG calls this social area "Social Tower".
Economics
2,800 €/m² (18,000 DKK) - mind you, only ten minutes from the central station.
Links
https://big.dk/#projects-8
DBZ 05/2011 www.dbz.de/...8_House...
Last Updated: November 19, 2020



Similar projects on sdg21:
All project/s of the planning office: BIG; Urban region: Copenhagen and surrounding area; Country: Denmark; Characteristics: 07-10-storey, 11 storeys and higher, Block Edge, Multi-storey housing, Residential; Thematic: Green roofs, Common areas, Commercial/office building, Arcade, Mix of uses, Free of parking spaces